In 2004, the Augusta Aviation Commission hired Hall Marketing to increase market share by re-attracting air travelers who were driving to Atlanta and Columbia to take advantage of lower air fares. Hall Marketing launched a series of advertising campaigns targeted at local travelers promoting the Augusta Regional Airport as your convenient hometown airport "where the value of the benefits far exceeds the difference in ticket price".
This multimedia campaign dramatically contrasted the nightmare scenario of driving to a distant airport with the ease, convenience and peace-of-mind of flying locally out of AGS. In the first year, enplanements were on the increase. Local travelers began returning to AGS in record numbers. 2007 was a banner year with an increase in enplanements of 13.5%.
Over the next ten years enplanements continued to grow with 2017 breaking the previous yearly record by over 30,000 enplanements!
Busby's Heating & Air Conditioning
For 29 years Busby's has had an association with Hall Marketing. At the time, Busby's shared a low Top-Of-Mind-Awareness score with dozens of other local heating and air conditioning contractors. Our objective was to increase TOMA (Top-Of-Mind-Awareness) while communicating the value Busby's offers. Our strategy was to develop a branding TV and radio campaign, using Rick Busby as spokesperson, positioning Busby's as Your Indoor Comfort Specialist, since 1945, supporting longevity/trust as a primary consumer benefit.
We followed with a series of TV and radio campaigns promoting Many Good Reasons illustrating the benefits of Busby's superior service and commitment to community. We created a customized jingle and tied "Buzz" the bee to all advertising messages including logo, signage, TV commercials, truck wrap and direct mail.
By 2004, Rick Busby had become a household name and was the "buzz" throughout the CSRA. Busby's TOMA increased 3 to 1 over its closest competitor with a rank of #1 in the "Heat/Air Contractor" category.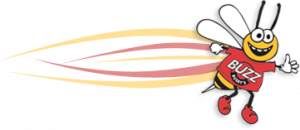 We brand your company and effectively bond with potential clients.